Find out how FRA Liners Improved Wear and Fretting Characteristics of a Rotorcraft Transmission Bearing and Case Interface. Preview first page here. Paper available for purchase from AHS here.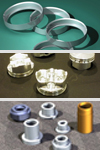 FRA Composites (FRA) is a fiber reinforced aluminum composite that is a high strength aluminum alloy randomly reinforced with chopped ceramic (alumina-silicate) fiber composites for applications that require excellent wear resistance, light weight and elevated temperature strength. Tests prove FRA (fiber reinforced aluminum) is superior to various forms of wear (abrasive, fretting, metal-to-metal sliding) compared with many ferrous alloys currently in use. FRA is also only 1/3 the density of ferrous alloys. Furthermore, compared to conventional high strength aluminum alloys, FRA has > 3X elevated temperature strength.  

FRA Composites (Triton) is now a partner with LIFT. Clck here to see more.
Coming Soon!
Standard stock sizes from our inventory